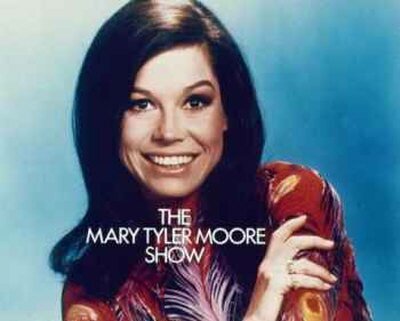 In junior high, every night, I would watch The Mary Tyler Moore Show on Nick at Nite.
I loved how Mary had her own apartment (even though her bed was a pull out couch!). I loved her best friend, Rhoda. And I loved seeing her succeed at work.
Even though the show began in 1970, and I'm more of a fan of the 1960's for music and fashion, I credit it for developing my love for this general time period. I also watched her in the Dick Van Dyke show that aired in the 1960's, but The Mary Tyler Moore show reigns supreme for me.
I recently found out that Oprah counts The Mary Tyler Moore show as an influencial show in her life. She says it inspired her to start her own production company when she was first starting out because at the end of each episode you see "an MTM Enterprises, Inc. Production." I also remember seeing that at the end of each episode. I remember thinking wow, does Mary own the company that makes the show?!? That's amazing!
You can watch shows from the first three seasons now on www.Hulu.com and I'm buying all the seasons on iTunes.
Mary Tyler Moore, she's everything!